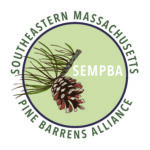 DOWNLOAD THIS FREE NATIVE PLANT GUIDE
Native Plants Recommended for Homeowners and Planners in Plymouth County, Massachusetts
From microorganisms to mammals, all those living beings with which we share our local part of earth have evolved in close connection to one another. Native plants constitute the basis of regional ecosystems: they build the harmonious environment and supply oxygen for all other organisms; they provide food and shelter for all animals, including nutrition for pollinators at the right time. Each recent disappearance of a native plant from our part of the state (and there have been many!) must be felt as a separate catastrophe by members of the local ecosystem—those that used to be dependent on the vanished plant.
Native plants have been declining and disappearing due to the climate change, inadvertent introductions of pathogens, invasions of non-native species, construction, or other human intervention: mowing, irrigation, tree felling, etc. One disappearance triggers a chain of others. By encouraging existing and adding additional native plants in our backyards, while getting rid of aggressive alien plants, we can, to a certain extent, repair the damage made to the local nature.
When using plant material propagated locally, you contribute to protection of the local genetic diversity and make sure that your plants are more resilient, better adapted to challenges in the future. Sources of plants that we are going to recommend are exclusively those located within New England. Even though nurseries often exchange their propagation material with one another and may purchase it out of state, buying from local nurseries makes our chances of obtaining local plants better.
***
This document consists of two parts. Part One contains brief illustrated descriptions of some recommended plants (for your convenience, grouped under the following subtitles: Grasses & Sedges, Groundcovers, Annuals, Ferns, Perennials, Shrubs, and Trees). Descriptions include references to New England nurseries where you could look for the species.
Part Two lists nurseries and other companies from which you might seek help and where you can purchase plant material (plants or seeds). For a few major nurseries—those that publish online catalogs—we provide shortened lists of native plants: those particularly suited to Plymouth County, Massachusetts. At the end of this part, one can find a quick reference for all of the species listed in this guide.
***
Download here: